Accreditation
The Council for Higher Education Accreditation (CHEA) explains accreditation as "review of the quality of higher education institutions and programs. In the United States, accreditation is a major way that students, families, government officials, and the press know that an institution or program provides a quality education" (2019). Without accreditation, it would be difficult for all of the mentioned parties to know if a school provided something a customer or learner could trust. Its also really important to note that if a student wants federal grants and loans, that they need to attend an accredited institution (here because the government also needs to know the can trust that the education being provided is of sufficient quality). Worth noting that schools that provide online education are bound by that same accreditation requirement. We likely can't cover accreditation in any meaningful depth here, but this graphic may go at least part way towards making sense of why we should care:

Of additional note here is the importance of standardization in Higher Education. Consider the example of Scottsdale Community College. There an "[a]ccreditor's rejection of Scottsdale Community College's proposed expansion suggests that consistency and mandated faculty training could become a focus for quality control in online education" (Smith, 2017). Additionally, "concerns about Scottsdale's use of multiple learning management systems and about inconsistencies in course navigation" (Smith, 2017) prompted the rejection of accreditation. So, this again highlights the importance both of program and course development as well as the eLearning environment.
CSU-Global is accredited and they are really happy about this. They should be. For online public schools, they did it first. As they describe it "[r]egional accreditation is highly regarded around the world because it is a comprehensive, peer-reviewed process that ensures a consistent standard of quality for higher education institutions. It is rooted in the history of traditional brick-and-mortar colleges and universities, and CSU Global is proud to be one of the few regionally accredited online universities" (2019). CSU-Global is accredited by the Higher Learning Commision (HLC), who regionally accredit institutions in the "North Central Region", which, somehow, includes both Colorado and Ohio. Weird, but, that is how the map works out: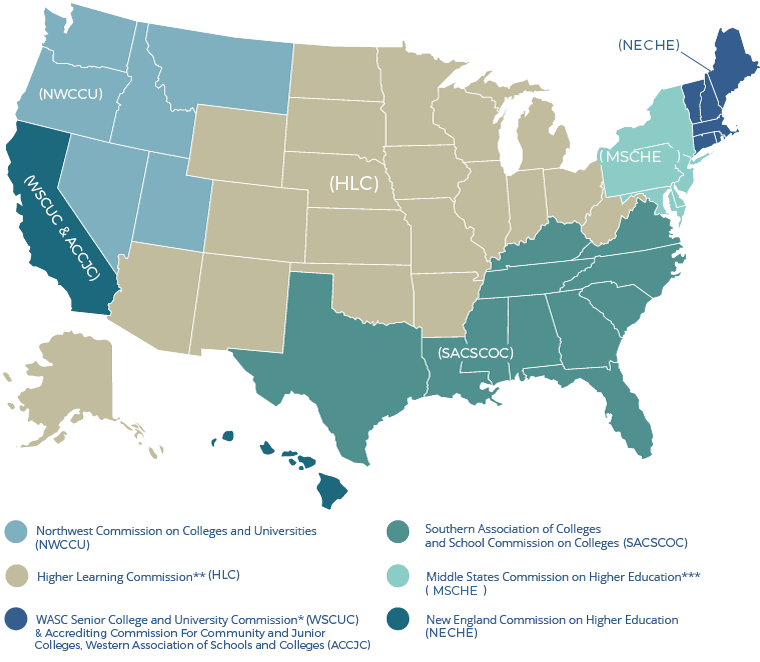 CSU-Global's regional accreditation was last reaffirmed on May 16, 2016, and will be next reaffirmed in 2025-2026. If you are interested, you can read the formal notification letter sent to the CSU-Global's President here.
Attendance Defined
Attendance in higher education matters for regulatory and Title IV purposes.In the online space attendance can include (OSU, 2019):
○Submitting an assignment
○Submitting an exam or quiz
○Documentation of student participation
○Posting in an online discussion group about academic things
○Email from student or other documentation which proves student contact with faculty
○Logging in to LMS is NOT sufficient
Regular and Substantive Interaction
Also important in online higher education is the notion of regular and substantive interaction (Poulin, 2016):
○Title IV Reporting Requirement
○Initiated by the instructor
○Instructor must meet accreditation standards for expertise
○Interaction must be academic
○Interaction must occur, at lea on a weekly basis
Accessibility
Of additional concern related to regulations is the concept of accessibility. There schools are required by Section 504 of the Rehabilitation Act of 1973 and the Americans with Disabilities Act (ADA) of 1990 (Smith, 2001). Best practices with web development can inform some compliance considerations as it relates to screen readers and other accessibility software; Web Content Accessibility Guidelines from W3C are a great place to start. Offices of Accesibility Services can also work to provide additional accommodations when requested by students.
Institutional Roles
University President: Here the President receives notification of accreditation, or, if put on warning, a University's president is also notified what steps need to be taken to meet accreditation standards (ACCSC, 2019). Meeting accreditation standards is really the job of the entire institution (as can be seen in the example of Scottsdale), but the President's role here is for sure highlighted.
Office of Accessibility Services: CSU-Global calls this the Office of Disability Services. Their goal and role is to "[collaborate] with instructors and staff to create effective, equitable, and inclusive learning environments so that qualified students may achieve their educational goals" (CSU-Global, 2019).
Status and Analysis at CSU-Global
CSU-Global, as discussed above, is accredited. They work diligently to maintain this status, and are fairly transparent about when and how accreditation concerns impact the University. CSU-Global is again positioned for growth with their standardization of the eLearning environment and their commitment to developing faculty (as we discussed in the Faculty Support module). From the example of Scottsdale Community College, we can see the importance of standardization in this space, which CSU-Global has delivered in spades.

Language in Higher Education has moved away from Disability to Accessibility and I would recommend that CSU-Global adopt this language as well. The institutions approach to eLearning otherwise appears strong, with the user interface adhering to web design and universal design principles.